Traditionally there are three levels of craftsmen. An A
pprentice, a Journeyman and a Master. Historically, an apprentice would work closely alongside a Master craftsman who would have a good number of years running their own small business in the Trade). A few years ago I had a fascinating visit to Martin Goetz and Dominic Gwynn's organ building workshop on the Welbeck Estate, where a young apprentice was being introduced to the technical aspects of metallurgy, essential in the construction of organ pipes. After three or four years learning on the job, an apprentice would typically take some form of examination, and become a Journeyman. The word journeyman is derived from the French for day (
journée
), which refers to the right to claim wages on a day-by-day basis. With time, a reputation would lead to a few journeymen becoming Masters, which would usually be associated with setting up their own establishment. This system of apprenticeships dominated all trades: my own ancestors from Liverpool were Blacksmiths. It was very common for such trades to be associated with families, where the Masters would hand down the trade and business to their children.
Ray in his workshop with the students
Ray's journey When I met Ray last week, I asked him to take me through his own personal journey to becoming a Master Luthier. Here is my version from that conversation. The first thing you realise when you meet Ray in his workshop, is that he definitely isn't "Liverpool born and bred!". Ray hails from the frozen wasteland (from my experience!) of another English seafaring city: Newcastle. The second thing that becomes clear is that conversations with Ray work best with a good cup of strong coffee from Ride.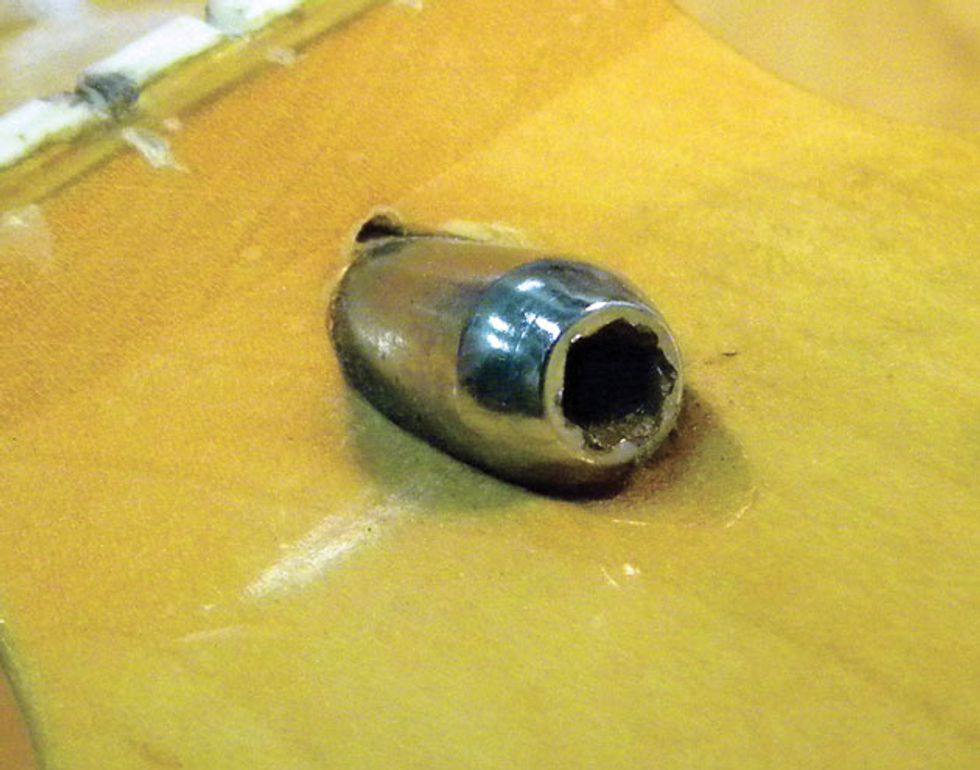 A badly damaged truss rod
Tenacity Ray's family influences were clearly important: his father was "handy" and his grandfather, who worked for the engineering firm Vickers, one of the largest engineering businesses in the world at the time, was a great role model. Ray would delight in taking apart old components from discarded machinery, just to see how it all fitted together. Here were the green shoots of a craftsman who can't settle until he's "fettled" a challenging problem. Only recently, a Ray told me, he had to fix a badly warped neck on a client's beloved Fender Telecaster (with a stripped truss rod, as shown): going to some serious lengths, including fashioning new tools, just to keep the customer satisfied, and pride in his craft, intact! So, two key early ingredients as Ray started out in his working life were family influences and a determination to solve problems.
Multi-disciplinarian (or as they used to be called: all-rounders) School for Ray was followed by a course in furniture design (the book on the right was a recommendation from another luthier, the brother of an old friend of mine), which gave him
skills, not only in carpentry and a love for wood, but introduced Ray to the principles involved in design: all of which would prove invaluable later. Another important string to Ray's bow came in the form of music: he turned professional guitar player around this time, but while the love of Blues and playing remains very much part of Ray's persona, it didn't pay the bills. And so, Ray moved through a job in a council drawing office (adding more relevant skills), through the audio visual department at the University of Newcastle. This last job proved to be the prelude to Ray's move to Liverpool, where he obtained a position he was to hold for the rest of his working life in sound production for Lime Studios. That is of course, until he took up residence at the Cains Brewery Village...
The Master By the time Ray decided that working from his garage was commercially limiting, he had added electronics and an appreciation of the recorded sound to his portfolio of skills. It was clear to me by now that, although Ray often drifted into opportunities along the road, he was perfectly placed to begin his new career as a contemporary luthier. As an academic, who has spent over 30 years working in experimental science and education, I immediately recognised some formative themes while talking to Ray. The importance of role models, passion and enthusiasm for what you do, a strong work ethic, great communication skills, determination to get the job done and, as we finished our coffees, the importance of a good sense of humour, oh and a healthy suspicion of "the Man"! As a favourite son of Liverpool, on a flight to the USA, was once asked to respond to the visa application question: "do you intend to overthrow the lawful government of the United States?", he allegedly replied: "sole purpose of visit"! I think Gilbert Harding was his inspiration, but it does capture John Lennon to a tee! I like to think that Ray and I share some of that spirit!
In finishing, I would like to invite the students who gave such an excellent interview recently on Tony Snell in the morning (BBC Radio Merseyside, just after 47 mins)) with their school mentor, Robbie Bell, to share their own personal experiences in a Blog format. Let me know if you want to accept the offer, and I'll post it here.
Thanks again to Michael McGloughlin from NLA for the photographs.